September Reset Challenge – Tips for staying consistent
15 Sep 2023


TPP members, we are so excited to be doing this challenge with you. September is the perfect time for a reset and committing to a challenge is the best way to establish a routine. We know life gets in the way and it can be tough to prioritise ourselves sometimes, so we've put together some tips to help you stay consistent and get the most out of this 6-weeks.

Believe it or not, these tips are all about committing to less and being kind to yourself. Who would have known! We are all about consistency long term, so we believe in starting small and only committing to what's sustainable for you, long after this challenge has ended.
Set Intentions
Before you start this challenge, set an intention for what you want to get out of it. Do you want to feel stronger and leaner? Do you want to improve your core strength and increase your energy? On days that you are struggling to find the motivation to get on your mat, remember your intention.
Ease Into It
We are big believers in starting small. If you're new to Pilates or you want a gentle approach, start with our RESET & SATISFY schedule. It's always very tempting to try and dive into the more challenging option, but with Pilates, its always better to build yourself up slowly. It's worth it in the long term.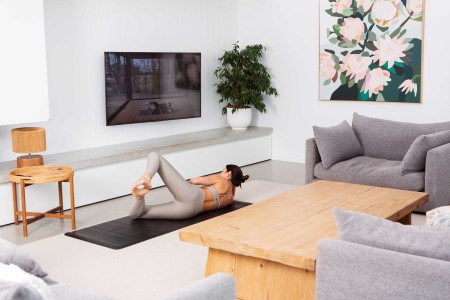 Don't Commit To Too Much
We have set our schedules as a guide to help you structure your practice. The schedules have 4 or 6 classes each week. If you feel that this is just too much for you, then decide what is realistic for you. It might be 2 or 3 classes a week initially, until you establish a routine. Committing to too much and then not being able to meet your expectations can be disheartening, so tailor our schedules to what you feel will be sustainable.
Plan Your Class Times
Once you decide which schedule you're following and how many classes you're going to do each week, loosely plan when you will do each class. This makes it so much easier to be consistent. Commit that time to yourself and treat it as a non-negotiable.
Don't Be Hard On Yourself
We want to build a good relationship with Pilates and exercise so it's important that we aren't too hard on ourselves. Beating ourselves up can feed into an "all or nothing" relationship. If you miss a class, don't worry, move onto the next class on the schedule. Remember, we're all about creating long lasting sustainable change and the key to that is consistency.
It's not too late to join TPP's 6-Week September Reset Challenge. You can start it anytime that suits you as the classes will remain on our app and platform indefinitely.